Communities
The Town of the Blue Mountains was formed in 1998 with the amalgamation of the Township of Collingwood and the Town of Thornbury. Communities in the municipality include Thornbury, Banks, Camperdown, Castle Glen Estates, Christie Beach, Clarksburg, Craigleith, Duncan, Gibraltar, Heathcote, Hurlburt, Kolapore, Little Germany, Loree, Ravenna, Redwing, Slabtown, and Victoria Corners.
Redwing
The settlement of Redwing began in 1848 on the 10th Line and 15-16 Sideroad, due to its location on the Millcreek which provided water power. First settler there was Angus McColman who, along with his brother, cleared land and built a log house on Lot 11, Concession 10. A furniture business operated at one mill by Adam Goodfellow, started in 1863. A school, S.S. #12, was built in 1863, a general store in 1878, and a post office in 1880 soon followed. The grist mill built by Robert Allen in 1879 continued operating until the early 1950s. (Flynn, Jean, ed. The End of an Era. Thornbury, Ont.: Town of the Blue Mountains, 1999.)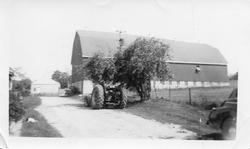 Barn on Jesse James' Farm
This photograph features the Jame's family barn in Redwing and was built in 1937-1938. The car in the foreground is a 1949 Chrysler.