Subjects
Parks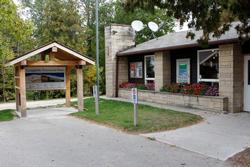 Craigleith Provincial Park Campground
The Craigleith Provincial Park Campground store. Located at the entrance of the campground just off of Highway 26.
According to Ontario Parks, Craigleith Provincial Park opened in 1967 and covers 65.69 hectares. It is "located on the southern shore of Georgian Bay" and features "fractured plates of shale that form our shoreline" which "contain fossils that are 450 million years old." (ontarioparks.com/park/craigleith. June 17, 2018)
VIEW FULL RECORD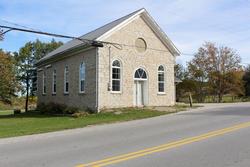 Ravenna Community Hall - Side View
The Ravenna Community Hall is located at 628299 on Grey Road 119, next to the intersection of Grey Road 119 and Grey Road 2. The long standing Community Hall is avalable to be rented for events and functions. It is located next to the Ravenna Park and is adjacent from the Ravenna General Store. Please see first photo for front view, titled: "Ravenna Community Hall, Front View," image ID: 88.
VIEW FULL RECORD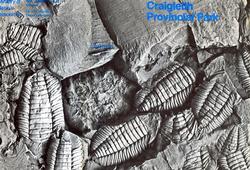 Craigleith Provincial Park - Fossil Photo
This photograph shows the fossils that can be found at the Craigleith Provincial Park.
VIEW FULL RECORD