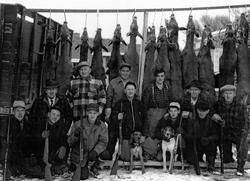 Kolapore Hunt Club, 1950
Twelve men before 13 deer and 2 dogs. Back row: Sandy Sanderson, Harry Porteus, Ed Fryer, Jack Royal, Fred Smith, William Bannerman. Front: Harold Freethy, Henry McAteer, John McAteer, Stewart Gardiner, Frank Dobson, Bill McAteer. This photograph was taken at Cooper's lumber yard and mill.
VIEW FULL RECORD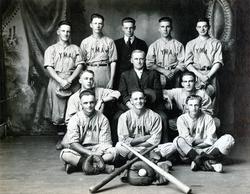 Young Men's Association Baseball Club, 1919-20
YMA Baseball Club, Thornbury/Clarksburg
Top row left to right - Ned Moore (or E.A,), D.J. (Jim) Davidson, Vernon Hewson, Elmer Fiegehen, Harry Brown (high school teacher)
Middle row - Ross Lawrence, Dr. Francis Moore, Erle Dillon
Front row - Tom Mackey, W. Hard (Bill) Phipps, Bob Isaacs.
VIEW FULL RECORD